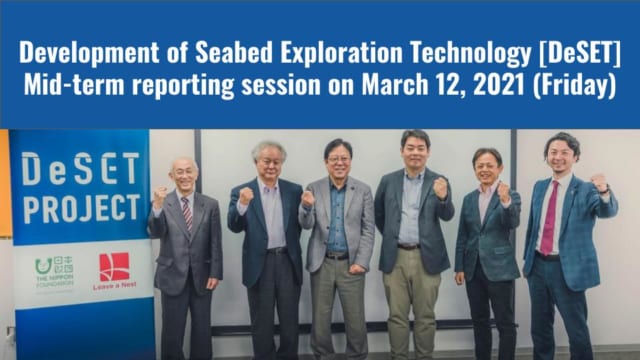 On Friday, March 12, 2021, we held the mid-term reporting presentation session of the seabed exploration technology development project "DeSET". On the day, three teams participating in the project presented the progress of their technological development.
The presentation was also streamed online to the public in order to discuss the possibility of collaboration with private companies regarding the technology developed through DeSET. On the day of the event, 170 people who were interested in seafloor exploration technology registered to attend the event.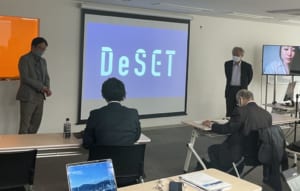 Outline of Implementation
Date and time: March 12, 2021 (Friday) 10:00 AM – 12:00 AM JST
Venue: Leave a Nest Co., Ltd. Head Office (4F Iidabashi Miyuki Building, 1-4 Shimomiyabicho, Shinjuku-ku, Tokyo 162-0822)
Participants: DeSET 2020 team members, The Nippon Foundation, JASTO, and Leave a Nest
Online streaming: to companies, researchers, and the general public who wish to attend
Program summary
Time
Activity
10:00~10:20
Opening remarks from JASTO, The Nippon Foundation, and Leave a Nest
10:20~11:50
Development status and future plans from each team: 20 minutes presentation, 15 minutes Q&A
TEAM 01 Development of an Automatic Detailed Seafloor Topographic Mapping System Using Satellites, Single-beam Bathymetry and Artificial Intelligence (AquaFusion, Inc.)
Short break
TEAM 02 Development of a simultaneous wide-area seafloor topography survey system (Lighthouse, Inc.)
TEAM 03 Low-cost, low-power underwater GPS for a compact and inexpensive AUV fleet (Magna Design Net Inc.)
11:50~12:00
Comments and closing remarks from JASTO, The Nippon Foundation, and Leave a Nest
We will continue to explore the possibility of collaborating with private companies on technologies developed through DeSET. If you are interested, please feel free to contact us.
For inquiries regarding this matter, please contact:
Leave a Nest Co., Ltd. (ATTN to: Kawana, Nakaema)
Mail: [email protected]
Tel: 03-5227-4198