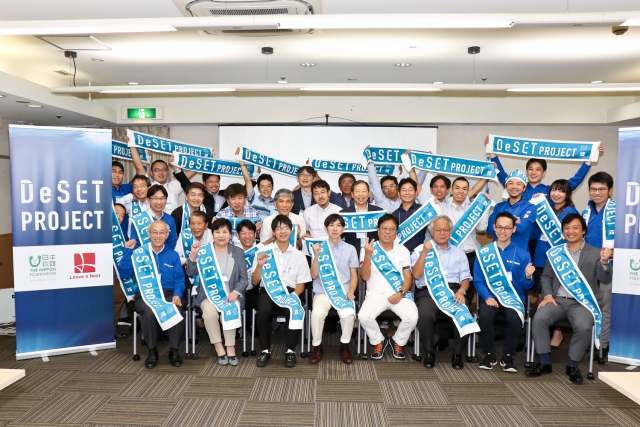 From September 1st to 3rd, 2017, 23 applicants for the DeSET project primary document open call for participants gathered and held a team formation training camp.
September 1st (Friday): Unification of vision
The first day that started in the evening. After the applicants gathered and gave a greeting from the organizer, we first held a social gathering with food and alcohol to deepen the friendship.
After that, we held a workshop to think about "the relationship between humankind and the sea after 2030", and all the participants thought about how we human beings will utilize and conserve the sea in the future.
September 2nd (Sat): Team formation
a.m.
The morning of the second day began with a thorough input. The sponsored Nippon Foundation and five guest companies talked about the need to create seafloor topographic maps, the need for sustainable development of the ocean, and the ocean-related technologies and needs being developed by each company. Then, each applicant gave a presentation on the content of the technological development currently being considered, laying the groundwork for the discussion from the afternoon.
afternoon
The morning of the second day was aimed at forming a team through discussions. Along the way, we had an interview with a Leave a Nest communicator to discuss how we could superimpose the ideas and technologies of other participants with our own development plan.
September 3 (Sun): Planning
a.m.
On the morning of the last day of the training camp, it started with a "leader declaration" that I would be the leader of the team application. Five applicants gave their names and divided into teams to discuss future research and development with the members.
afternoon
To conclude the training camp, five teams gave presentations on development visions and plans. Feedback was given to future planning through questions and comments from the organizers and guest companies.
Schedule after training camp
The team formed at this training camp will proceed with discussions toward the team application by October 13.